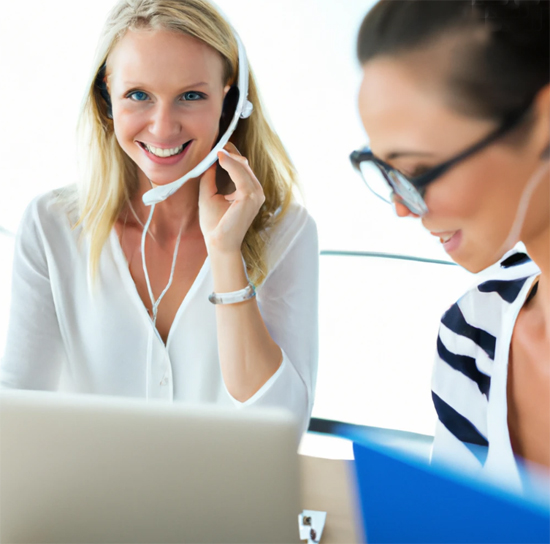 You know you need help to get your business running efficiently, but where do you begin? And when it comes to hiring help, you can't always get by with the same interview questions. As businesses become increasingly digital, hiring strategies must also become more tech-savvy. That's where virtual assistants come in.

The right virtual assistant can be your business's secret weapon, offering specialized skills and services that support your company exactly where it needs the most help. So, how do you choose the right one for your business?

We've all heard the saying, "The right questions lead to the right answers," and that's especially true when it comes to virtual assistant interviews. The correct questions will provide you with a clear picture of your potential assistant's attitudes, abilities, and work styles.

In this blog post, we'll explore the essential interview questions to help you find the perfect virtual assistant to fit the needs of your business. Keep reading for a comprehensive guide to finding the best assistant for your company!
When interviewing a Virtual Assistant, it is important to ask about their experience with the type of work you need completed, their availability, and any required tools or software. Additionally, it is important to find out their communication preferences and what processes they have in place to ensure quality delivery.
Common Virtual Assistant Interview Questions:
What experience do you have as a virtual assistant?
What types of tasks have you performed as a virtual assistant in the past?
How do you prioritize your tasks and manage your time effectively?
How do you handle difficult clients or tasks?
Have you worked with any project management tools? If so, which ones?
How do you ensure that you maintain client confidentiality and data security?
What are some of the biggest challenges you've faced as a virtual assistant, and how did you overcome them?
How do you stay organized and keep track of important information and deadlines?
Can you give an example of a time when you had to learn a new tool or process quickly?
How do you communicate and collaborate with remote team members and clients?
How do you handle multiple projects or clients with different needs and deadlines?
Have you ever had to deal with a difficult client who was unhappy with your work? How did you handle the situation?
How do you ensure that you meet all client requirements and deliverables on time?
Have you worked with any social media management tools? Which ones?
How do you keep up with new technologies and trends in your field?
What experience do you have with email management and scheduling tools?
Can you provide an example of a successful project you completed for a client as a virtual assistant?
How do you handle confidential information and data, such as sensitive client or company data?
What are your strategies for maintaining a work-life balance as a virtual assistant?
How do you ensure that you provide excellent customer service and communication to clients?
What are the Duties and Tasks of a Virtual Assistant?
The duties and tasks of a Virtual Assistant can vary depending on their specific skill set. Generally speaking, they can range from administrative tasks – such as managing emails and managing schedules – to aiding with customer service inquiries, making social media posts, and providing technical support. Depending on the industry, more advanced tasks such as creating reports, running market research, designing graphics, and more could be required as well.

It is important for employers to evaluate what types of tasks and duties that their Virtual Assistants are responsible for because it will help them understand which skills would be necessary for the ideal candidate. For example, if an employer requires an individual to analyze data, then candidates should be adequately experienced in various data analysis platforms and software. Furthermore, employers should also consider the workload that their Virtual Assistant may have to tackle within reasonable time frames. Knowing these details will help find the right fit for their business.

These days, demand for Virtual Assistants is growing increasingly competitive as businesses seek to increase efficiency while reducing costs. Consequently, employers need to ensure that they are making informed decisions when it comes to hiring a Virtual Assistant so that they will get the best out of their budget and team dynamics. If done properly, a Virtual Assistant can become a valuable asset to any organization and truly enhance their productivity levels. And there are VAs who specialize in specific industries or niches. For example, there are insurance virtual assistants, there are content creator VAs, and marketing virtual assistants too.

Now that we have discussed the duties and tasks of a Virtual Assistant, the next step is to prepare for your virtual assistant interview. Employers must come prepared with specific questions pertaining to their job requirements – keeping an eye open for soft skills such as interpersonal communication and problem-solving abilities – that are critical for success in this role. Additionally, employers may also want to ask about the virtual assistant's experience working remotely and other topics that would give further insight into whether or not they possess the necessary skillset to excel in this position.
Preparing for Your Virtual Assistant Interview
Preparing for Your Virtual Assistant Interview is an essential step for you to consider when hiring a virtual assistant. As an employer, you should do your due diligence and research the background of potential candidates to understand their experiences and strengths. You should also ensure that there is clear communication between you and the candidate regarding interviews before, during and after the process.

During the interview, come prepared with relevant questions to get the most information possible. Do not rely solely on a resume- review other sources too. Ask questions regarding their technical abilities and work style as different abilities lead to successful or unsuccessful outcomes with different jobs. You might also request outlines or examples of past work samples. Drawing references from past experiences can be extremely beneficial in assessing a person's capabilities and creating trust through explicit evidence.

Not only should you have several questions prepared that are specific to the candidate themselves, but you might also include questions about how they would fit into your team environment. Everyone works differently and having conversations around their working style can show whether they would be a good cultural fit for your team. Furthermore, don't forget to ask yourself if this particular candidate has the necessary skills and technical knowledge that is needed for your simulation job setting?

You want to make sure that both parties are on the same page in terms of responsibilities and expectations. If a contract is in place, thoroughly read it over yourself or seek legal council before agreeing to anything. With all of this preparation comes enlightened decisions with the best long-term outcome in hiring a suitable virtual assistant who fits well within your business needs. It's important to have confidence in knowing that those decisions were informed by pre-interview research, keeping any hiccups at bay and ensuring success with your choice down the line!

By taking these steps in preparing for your virtual assistant interview, you'll be able to move forward towards gathering any necessary skillsets, knowledge and experiences needed for successful implementation. This is key; it will lay out the groundwork towards properly resourcing your business with just the right person who meets all of its unique demands!
Gathering Necessary Skills and Knowledge
Once you're comfortable with the logistics of the interview process, it's time to determine whether a potential virtual assistant possesses the essential skills and knowledge to fulfill your business needs. At minimum, you should expect a thorough understanding of office productivity tools, like Microsoft Office Suite or Google G Suite; various communication platforms, such as Zoom or Skype; project management software, like Asana or Trello; and some familiarity with database software and systems. Moreover, look for candidates who are familiar with web design basics; basic coding languages, such as HTML and CSS; and content management systems, like WordPress.

It's also beneficial to identify candidates with specific industry experience that could be beneficial to the overall success of your business. If a virtual assistant can bring unique insight from their previous experience – even if it's from outside of your particular field – you may find they'll be able to better tailor solutions to meet the varied needs within your organization.

Still, if an applicant lacks prior experience in your chosen industry but is adept in other areas pertinent to their role, you might consider giving them an opportunity based on ability – so long as they have transferable skills most likely needed by your business and are eager to learn more.

No matter what kind of virtual assistant you're looking for, it's important that you give all qualified applicants an equal opportunity by explicitly stating that discrimination based upon gender identity or expression, age, race/ethnicity, sexual orientation, disability status or any other non-job related factor will not be tolerated during the hiring process.

Every applicant should be given a fair chance at success, because having access to diverse backgrounds and perspectives can bring enhanced creativity and expertise during problem-solving tasks. Once the initial screening process has been conducted in pursuit of necessary skills and knowledge – with all of the appropriate anti-discrimination measures in place – employers can move into the interview stage and hone in on individual personalities and workstyles through careful question-asking techniques.
Types of Questions Employers May Ask in a VA Interview
When interviewing for a virtual assistant role, employers have the difficult task of apprising a candidate's skills and matching those to their organization's needs. While it is important to evaluate the knowledge and skills needed of the virtual assistant, employers must also consider what type of questions to ask in order to find the right fit for their business.

There are many types of questions that may be asked during an interview; some focus on job-related inquiries such as asking about the candidate's experience in customer service or their ability to complete tasks quickly and accurately. Other questions may focus more on the person's character such as how they handle stress or working in groups. Employers should strive to use both factual and behavioral-based questions throughout the interview process in order to gain a better understanding of how successful a potential hire might be in the position they're applying for.

When asking fact-based questions, employers should consider how closely a prospective employee has followed directions listed in job postings, if they can detail prior job successes, or if they can align their experience with the desired work goals. On the other hand, when asking behavior-based questions, employers should pay attention to details such as how well a potential hire communicates with others or processes instructions from colleagues and customers alike.

By incorporating both types of questions into an interview process, employers will have an easier time assessing their candidates' possible ability to succeed in any given role. This will prepare them for any challenges and downtime that comes with hiring virtual staff by selecting personnel equipped with the needed knowledge and expertise required for success.
Handling Common Challenges and Downtime
One of the most common challenges that a potential employer may encounter when hiring a Virtual Assistant is handling downtime. With standard workers, downtime can be effectively managed by providing additional tasks and or requiring them to take breaks away from the computer. However, managing downtime with a remote worker can be a bit more complex.
One benefit of virtual assistants is that they are self-directed and expect to work independently with minimal interference from employers. They also often charge by the hour, so expecting them to stay online during downtimes can require an increase in pay. Not ensuring productive work during downtimes could lead to wasted hours where zero output is produced.

In order to maximize productivity while managing downtime for virtual assistants, employers must have clear expectations for what should be done during this period. This could include specific tasks that need to be completed or taking time off without any required activities in between. Additionally, such standards should be established before any hiring decisions are made. This allows both parties to discuss expectations and goals beforehand so neither feels deceived into taking on an unexpected workload.

No matter what kind of standards you decide upon for Virtual Assistants' downtime management, it is important that they are consistently followed as part of everyone's job responsibilities. Doing so will allow employers and Virtual Assistants to create a sustainable workflow that works for everyone involved and ensure productivity remains at its highest level. With these dynamics surrounding downtime in mind, employers should consider summarizing their overall expectations before pushing forward with their virtual assistant interview process.
Summary and Overall Virtual Assistant Interview Questions
Once you have identified several prospective virtual assistants, it is time to carry out a series of interviews to determine which individual is the best fit for your business. Of course, coming up with the right questions can be tricky; you want to ensure you are asking questions that will give you an accurate insight into their knowledge and abilities. At the same time, it is important to make sure that your interview questions for virtual assistants focus on the specific tasks you want them to complete as well as their ability to work independently and manage any potential challenges or downtimes in their role.

To sum up, virtual assistant interview questions should address a combination of technical skills, problem-solving acuity, and comfort level with unique challenges. Ask candidates how they would typically handle various common challenges and downtimes that could arise during their tenure with your business. Consider any additional certifications or training that might be needed to successfully perform their duties as well.
Finally, try to get a sense of how comfortable they would be working independently or in a remote setting, so you can better understand if they are the right fit for your team. When combined together, these factors can help you make an informed decision when looking for a virtual assistant and ultimately save time and money in the long run.
You May Also Like: